Samsung 4-door french door refrigerator with an external ice dispenser - Laingsburg
Friday, 20 October 2017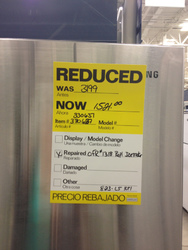 Item details
City:
Laingsburg, Western Cape
Contacts

Andrew
Item description
Samsung 4-door french door refrigerator with an external ice dispenser. This is a grown up fridge, we also deal with other nemoreus items such as ... COOKING, Oven Ranges , Fryers , Cooktops / Grills , Other Cooking
REFRIGERATION , Food & Deli Displays, Cake Displays, Underbench Refrigeration, Upright Fridges, Freezers , Blast Chillers/Freezers, Ice Machines , Countertop Refrigeration, Merchandising Cabinets, Other Refrigeration, DISHWASHING, Glass Washers, Undercounter Dishwashing, Passthrough Dishwashing, Other Dishwashing , COUNTERTOP EQUIPMENT , Toasters
Pie Warmers , Bain Maries , Coffee Machines , Benchtop Fryers , Other Countertop, FOOD PREPARATION, Mixers
Heated Displays , Slicers / Mincers , BENCHING & SHELVING, Sinks Shelving, Benching, Food Bars,
Miscellaneous.

Thanks and hope you get cought in one of our items and enjoy the amazing offer we have in stock.
Came one came all.